Technology
WegscheidEntrenco uses the proven principle of combined heat and power (CHP), which produces electricity and heat simultaneously at high efficiency. Our patented technology achieves high efficiency through uniform, finely controlled gasification and harmonious coordination of the entire process chain. By using wood as biomass, the raw material cycle is CO2-neutral.
Technology of the 50 kW plants
Carburetor
Wood gas generation
Heat Exchanger
Wood gas cooling
Filter
Wood gas is freed from ash
Ash discharge
Ash is discharged from the system
Engine
Wood gas is burned in the engine
Generator
Power generation
Heat Exchanger
Heat recovery from exhaust gas
Fuel Supply
The wood chips are fed into our system via a screw conveyor.
3-part wood carburetor
Our carburetor has tested technology, which guarantees stable operation, low maintenance and long service life.
Double tube
The syngas from the gasification process is fed to our hot gas filter.
Hot gas filter
The patented design uses metallic filter cartridges with a long service life. Thanks to the high degree of separation, clean wood gas is supplied to the engine.
Ash container and ash box
Due to the efficient gasification process, only little ash is produced and the ash is free of toxic substances. No additional costs for waste disposal.
Flare line
Automatic safety feature and is used to compensate the gas flow of the plant.
Gas cooler
Hot gas must be cooled before it enters the engine. Since it is connected to the water circuit, this is the first source of heat.
Safety filter
The safety filter is unique in the industry. Other remaining microparticles are filtered out of the gas.
High reliability and economic efficiency
The engine, generator and other key components are carefully selected series products from renowned manufacturers and thus guarantee high reliability and economy. Finally, by developing and manufacturing our products in Germany, we fulfill the expectations associated with ''Egineered in Germany''.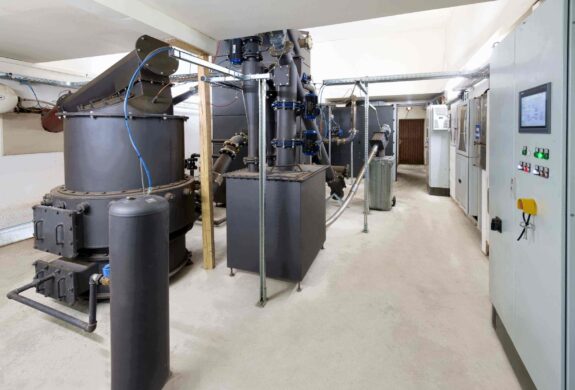 In over 15 years we have developed our products and components to perfection. Developed and tested in-house, we guarantee the longevity of our components. Other key components such as the engine and generator are carefully selected and customized series products from renowned manufacturers. Finally, we fulfill the Made in Germany claim by developing and manufacturing our products in Germany.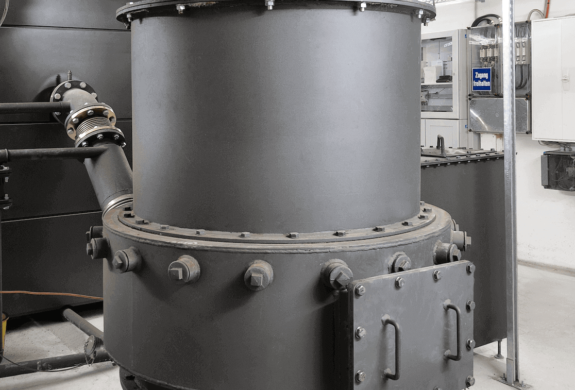 A sophisticated filter system
Our advanced hardware guarantees the longest operating time on the market. This is due to the filtration of the syngas that is fed to the engine. Very low levels of micro-particles and wear guarantee the longevity and constant operation of our 12 liter engine. This ensures high plant availability and reduces the need for on-site personnel.
Are you interested?
Contact us now free of charge and without obligation. With a little information about your needs, the location of your business and what your expectations are, we can advise you on how a biomass cogeneration plant can be used for your business.
Contact us
Expansion of the fuel spectrum
Another focus area in our development work is the expansion of the fuel spectrum from wood pellets and wood chips to other biomasses. We have investigated the combustion behavior of more than 400 different materials and mixture ratios, from hazelnut shells to various types of straw and food waste to plastic. For fuels that cannot be processed on our carburetor, we have developed a special technology that is currently being tested.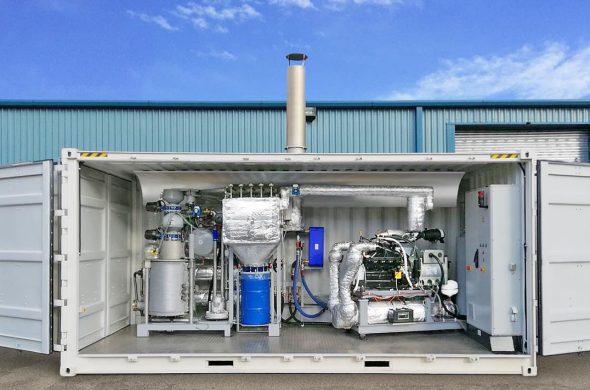 Products
Our product range consists of three types of plants: 50 kWel for wood pellets and 50 kWel for wood chips, as well as the 135 kW plant with wood chips.
See more details about our products here.
To Products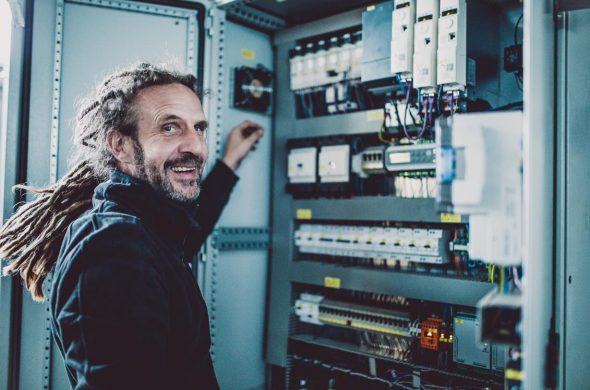 Services
Our services provide you with all-round support - from planning to commissioning, inspection, maintenance and remote servicing. Learn more here.
To Services